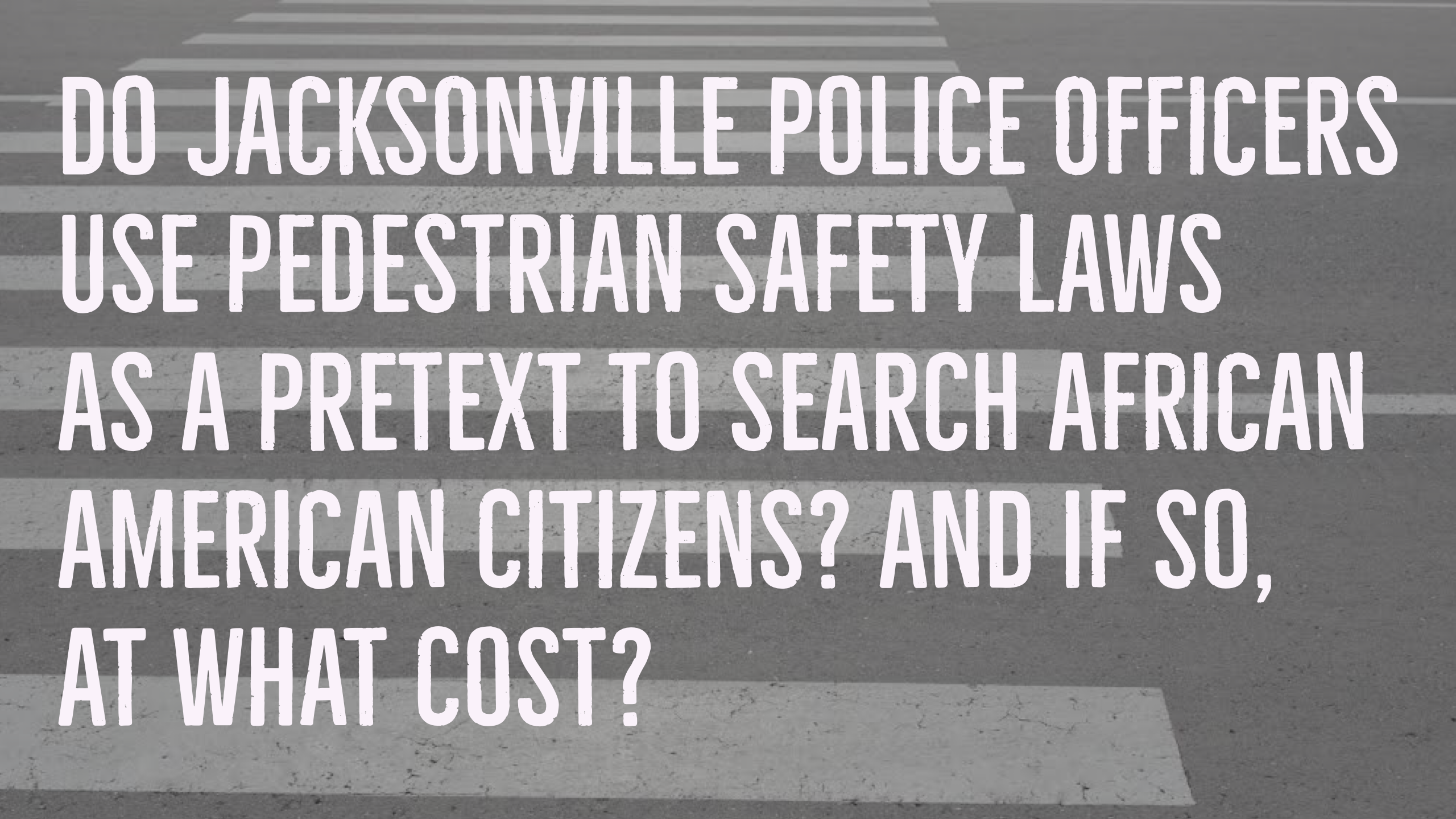 The Florida Time Union released a story with some eye-popping statistics relating to the use of pedestrian citations in the city's most crime ridden areas of Jacksonville.  Jacksonville criminal defense attorneys often challenge these pretextual stops, but the case law continues to generally support the use of profiling, as long as there is a lawful basis for the stop.  With so many pedestrian safety statutes on the books, it's easy for a law enforcement officer to pick and choose who the officer wants to stop and question, under the guise of pedestrian safety.
Jacksonville Sheriff's Officers will often conduct a stop and talk or a stop and frisk search on individuals they believe are suspicious and if they uncover something illegal, they will make an arrest.  But what effect does their detention have on a citizen who has done nothing wrong?  Won't that person feel profiled?  Unjustly singled out?  How big of a group is this?  How many citations do the Jacksonville Sheriff's Office issue where the person was engaged in otherwise lawful conduct and possessed nothing illegal on their person?  How many African American citizens have been stopped for violation of a pedestrian safety statute and not issued a citation simply so the Jacksonville Sheriff's Officer could investigate them further?  An African American law abiding citizen living in a high crime area is sure to carry resentment if he or she feels continually harassed or is cited for violations of pedestrian safety statutes that are not enforced in the low crime, white areas of Jacksonville.
Also disturbing, is the report that the Jacksonville Sheriff's Office has been issuing hundreds of citations despite the person not actually violating the statute.  Whether this true or not, it seems like the end desire of law enforcement (to drive out crime in crime ridden areas of Jacksonville) is laudable, but some of the methods (pretextual stops and searches) may do more damage than good.  So many crimes in predominantly African American, low income neighborhoods require the cooperation of citizens who live in that community.   When those people don't trust law enforcement because of what they consider constant, unjustified harassment, they are less likely to cooperate in a criminal investigation.  Murders, rapes, robberies, burglaries can all go unsolved or unprosecuted because the State lacks the witnesses and evidence to proceed.  It would seem that if the Jacksonville Sheriff's Office spent more resources providing more law enforcement officers for those particular areas that need them the most and if those law enforcement officers developed, groomed, and maintained positive relationships with the citizens of those communities, more crimes would get solved and successfully prosecuted.