Can you walk into a federally licensed firearm dealer's shop and purchase a firearm for someone else?  In other words, can your uncle Joe, who lawfully owns other firearms, give you $900 to go into the local gun shop to buy him a new semi-automatic?  The United States Supreme Court has said, "No."  This sale, commonly referred to as a "straw purchase," is illegal under federal law.  Even though both you and your Uncle Joe can lawfully purchase firearms, it is a crime to do that if you are the actual buyer on Form 4473, if you are actually purchasing the firearm for a third party.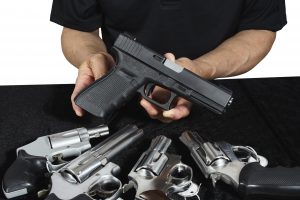 In 2009, Bruce Abramski, a former police officer, walked into a local gun shop and purchased a firearm for his uncle. His uncle sent him $400 to make the purchase. Under federal law, the firearm dealer was required to record the buyer's name, age and place of residence. Abramski filled out ATF Form 4473 stating that he was the actual purchaser. Abramski walked out and immediately transferred the firearm to his uncle. Both Abramski and his uncle were eligible to lawfully purchase a firearm from a federally licensed firearm dealer.  Neither one was a convicted felon or otherwise a prohibited person.
So, why wasn't what Bruce Abramski did legal under the Second Amendment?